Following the recommended approach from the United Nations Framework Convention for Climate Change, SRO entered a massive carbon footprint assessment, gathering data to measure the carbon footprint of our worldwide business operations in 2019, for Scope 1, 2 and 3.
The dataset estimated our total footprint for the 2019 season as 35,601.2 tonnes CO2e. The carbon footprint report provides detailed analysis consisting of footprint reports per region, activity and stakeholder. According to the stakeholder footprint report, the largest contributor to emissions in 2019 has been the competitor footprint with 82.5%.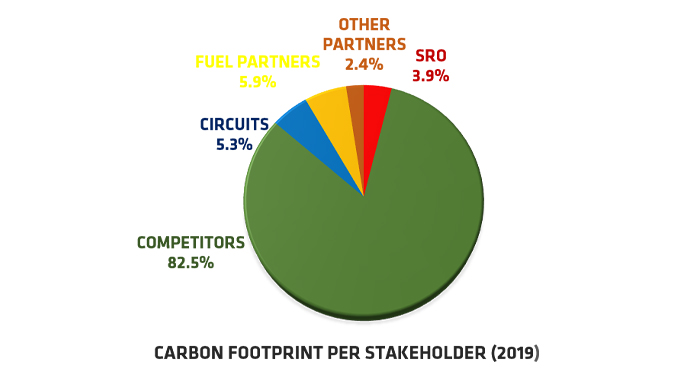 Our carbon footprint report clearly illustrates the environmental consequences of our global operations, therefore we are determined to strive for improvement.
Placing the environment at the forefront of our priorities, we are currently developing a 2030 carbon reduction strategy, with concrete carbon reduction actions being implemented in our operations as of 2021.
Implementing our commitment of achieving operational carbon neutrality by 2023, required that SRO takes additional actions now. The reality being that bulk of our carbon emissions cannot be avoided at present, we have decided to follow best practice research and compensate our current emissions through carbon offsetting. We have for that purpose invested in supporting a tropical forest conservation project in Indonesia, via our partner Permian Global, which protects one of the largest and most endangered tropical rainforests worldwide.
Tropical forests being home of nearly half of the plants and wildlife on Earth and absorbing around one fifth of man made CO2 emissions world wide every year, motivated SRO to react to the urgency of protecting these significant climate change fighters.