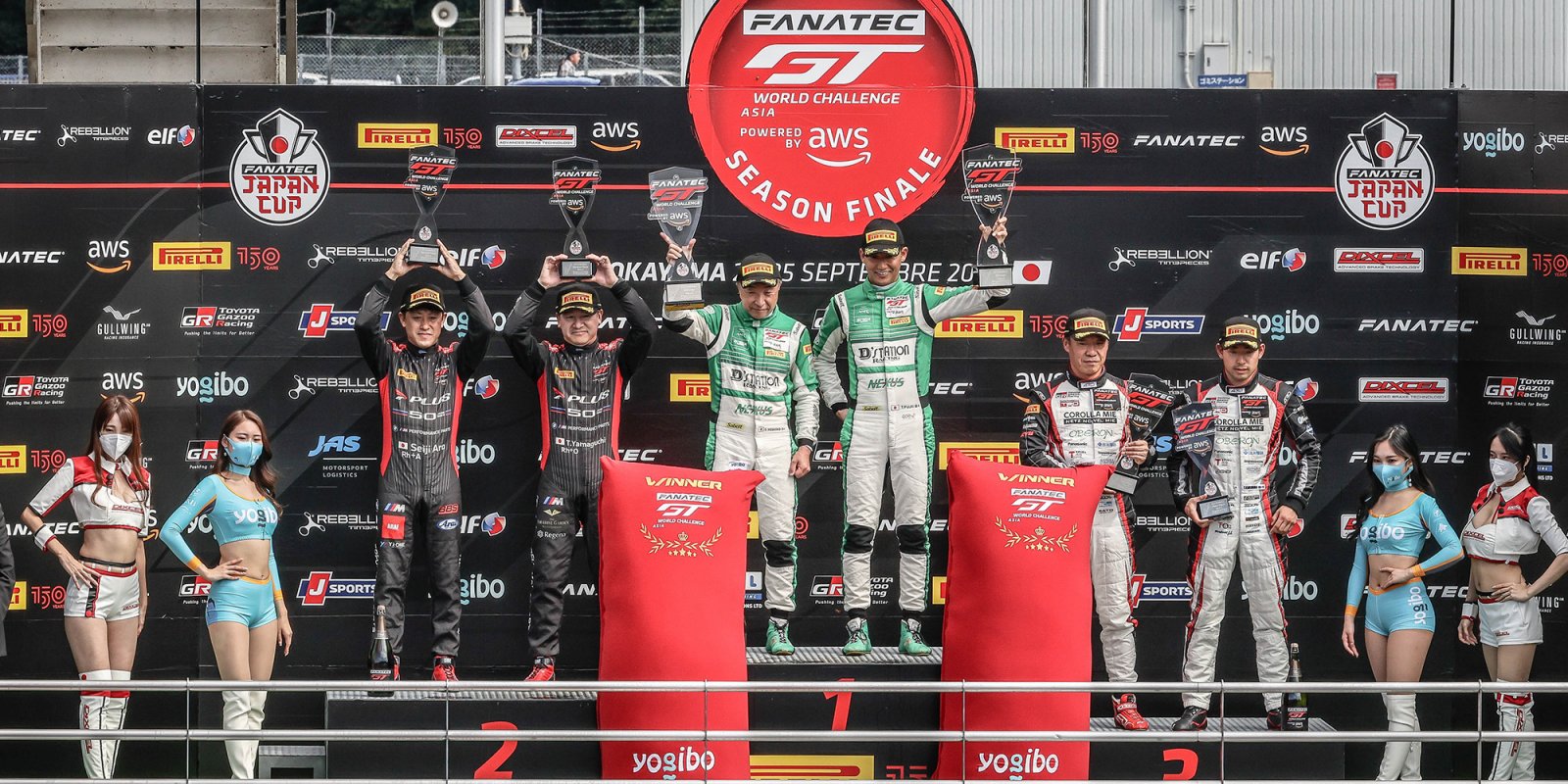 WELCOME TO FANATEC GT WORLD CHALLENGE ASIA POWERED BY AWS - THE CONTINENT'S BIGGEST MULTI-CLASS GT SERIES
It also comprises a quarter of SRO Motorsports Group's worldwide GT3 sprint racing platform where the performances of manufacturers and drivers contribute towards a global championship as well as domestic titles.
However, Fanatec GT World Challenge Asia Powered by AWS is also one of a select few multi-class championships to mix GT3 and GT4 cars, with the latter's teams and drivers fighting for their own class wins and titles.
This format has helped to quickly established Fanatec GT World Challenge Asia as the continent's most popular GT championship, which attracted an average of 30+ cars per race in 2017-19. Similar numbers are expected in 2023.
Cars feature a maximum of two drivers, each of whom qualifies for and then starts one of the weekend's two races. They must then swap places with their co-driver during the mandatory pitstop window, which lasts 10-minutes.
> GT3 CLASSES PRO/AM SILVER CUP AM CUP
> GT4 CLASSES N/A SILVER/AM AM CUP
> GT2 CLASSES PRO/AM N/A AM CUP
> GTC CLASSES PRO/AM N/A AM CUP
Two types of driver pairings compete for outright victories: the mix of a professional and amateur (Pro/Am) and two professionals graded no higher than Silver by the FIA (Silver Cup). The latter is subject to performance adjustments and approval by SRO to ensure that both Pro/Am and Silver Cup crews are capable of winning races. The Am Cup, which comprises two Bronze-graded drivers per car, completes GTWC Asia's GT3 class structure.
The GT4 class is reserved for Am Cup and Silver/Am pairings; Am Cup and Pro/Am crews contest the GT2 and GTC classes.
At least one Asian driver per crew is mandatory in most classes, while events feature a dedicated test session for amateur drivers.
____
2023's FANATEC GT WORLD CHALLENGE ASIA POWERED BY AWS CAMPAIGN ALSO INCORPORATES THE FANATEC JAPAN CUP, A 'CHAMPIONSHIP WITHIN A CHAMPIONSHIP' FOR JAPANESE TEAMS AND DRIVERS.
Points counting towards the Fanatec Japan Cup classification will be awarded at four of this season's six events: Fuji, Suzuka, Motegi and Okayama.
Fanatec Japan Cup is open to Pro-Am and Am crews racing GT2, GT3, GT4 and GTC (Lamborghini Huracan Super Trofeo, Ferrari 488 Challenge, Porsche Carrera Cup) cars.
All Japan Cup drivers must be JAF license holders.
All four Japan Cup dates avoid domestic clashes with Super GT and Super Taikyu.
____
SRO's wish to develop local drivers has resulted in a regulation mandating at least one Asian driver per GT3 Pro/Am and Silver Cup pairing. Only drivers from Asia, Australia and New Zealand are eligible to contest GT3 Am and GT4.
Pitstop success penalties are applied at all races to prevent any single crew from dominating. The top-three finishers from the previous race must respectively serve an additional 15, 10 or 5 seconds on top of the mandated minimum pitstop time.
Just like all SRO championships, Fanatec GT World Challenge Asia benefits from the organisation's world-renowned Balance of Performance (BoP) regulations. These ensure that a car's natural attributes or shortcomings are not the determining factors in overall results.
But SRO's BoP is just the start. Its expertise extends into Race Control, stewarding, scrutineering, management and regulatory matters, all of which combine to deliver an accountable and trustworthy GT racing environment.
Points are awarded to the top-10 finishers overall and in class:
1. 25pts - 2. 18pts - 3. 15pts - 4. 12pts - 5. 10pts - 6. 8pts - 7. 6pts - 8. 4pts - 9. 2pts - 10. 1pt
STAY UP TO SPEED WITH #GTWorldChAsia
Website: www.gt-world-challenge-asia.com
Twitter: @GTWorldChAsia
Facebook: www.facebook.com/GTWorldChallengeAsia
Instagram: @GTWorldChallengeAsia